Young Living Essential Rewards Program ~ The Oil Vibe
So you're ready to order more oils? Here is our recommendation for purposefully building a cabinet that will provide you with what you need, when you need it, while planning a budget. (First, make sure you're a wholesale member instead of a retail customer so you're getting that 24% discount!) To enroll with The Oil Vibe please click HERE.
Essential Rewards – a monthly, auto-ship order with a minimum of 50PV.
Helps you to gradually build an oils cabinet
Save with $6.98 flat shipping charge up to 5 lbs.
Change shipping date each month according to your needs
Completely flexible – change everything or order each month (or order your favorites again!)
Earn points on each order to redeem for free product (based on a percentage of your order's product volume)
Earn 10% of your order's product volume in points for the first six consecutive months, 15% for the next six consecutive months, and 20% for 13 consecutive months and thereafter on Essential Rewards
No risk – cancel at any time (make sure you use any available points before canceling)
One grace month per year – you can call and skip one month if the need arises
Ordering 100 PV or more on a monthly basis makes sure you are eligible for every bonus and commission given when you have others ordering under you in your downline.
Access to exclusive discounted Essential Rewards kits (including Thieves, Ningxia Red, A.R.T. and more.)
The best part?
There's no catch. Seriously. No one's trying to trick you. You can quit whenever you want, but I'll put money on you never wanting to quit.
Recently I placed an order for 5 bottles of lavender, 5 bottles of RC, 2 Breathe Again roll-ons, and 2 Deep Relief roll-ons to hand out to friends and family who asked about oil solutions that did not carry a toxic load on their family. That total order cost me $12.33 in shipping because I used my points. $286.50 of product for $12.33. I like that. Obviously, I spent money to earn those points, but I spent it on things I needed and wanted for my family and was going to buy anyway. I used to spend that money at Whole Foods, Sprouts, health food stores, etc. for natural remedies and they never handed me anything for free! I did a little unofficial survey among friends recently and discovered that the average family of my acquaintances spend $100 per month on products that burden their bodies. I don't think that takes into account even half of what you can use the oils for, but we'll start with that. If you spend $100 a month on your essential rewards instead, you will have healthier, FAR more versatile options in caring for your family, points to spend on more oils, and you will begin building the extensive oils cabinet that will have you prepared for the needs of your day to day life. This is not spending on top of what you already do but is spending INSTEAD of what you already do.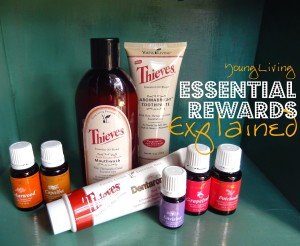 To Sign Up and Use Essential Rewards:
You May Click HERE to Log in or Join Our team
Log in to your account at www.youngliving.com with your member number and password.
Click on "Essential Rewards" in the menu on the left.
Follow the instructions to set up your monthly order.
Set a date and put that date on your calendar. You want to make any final changes to your order by that date.
Add any products you want to order. Remember to save your order any time you change it. You can tweak it during the month as you run out of items or discover new ones that you need.
Make sure your payment is always current so that your order will process on that date each month.
Each month after you receive your order, go in to your account and delete any products you won't want to re-order, put in any items you already know you will want, and enjoy tweaking until your next processing date (which you can adjust according to need).
When you log in to your account, look to the right of the page to see your current "Essential Rewards Points Total."
Redeem points (after three months on the program) for items by using your virtual office.
Sit back, relax, and wait for what my family fondly refers to as "Christmas Every Month" or your own, beautiful Essential Rewards box.
Try not to tackle the delivery person. Play it cool until your front door is closed and THEN tear into the box.
If you are interested in joining our amazing team you will receive a huge community of support with a HUGE welcome package as a gift for only our members. Please contact me HERE to learn more.