My Premium Starter Kit Has Arrived! Now What?
So you finally jump on board into the natural world and this amazing box gets delivered that radiates smells of health and wellness! Well, you are in for a ride my friend!
Like an excited child waiting for Christmas morning, I continued to check the mail each day, waiting for a special package…my Premium Starter Kit, it has arrived! As it turned out, this would end up being the very best gift I'd ever give myself.
When the Premium Starter Kit arrived I was filled with anticipation as I opened the box. I knew what would be inside, but now the task of actually "using" the products was in front of me. Hold on, one thing at a time. Let's open this beauty up!
Oodles of Oils Inside
Included in the shipment were the Essential Oil magazine, Essential Edge member resources, the product guide, and the product price list. When I pulled out the starter kit, I found it has an outer cover that helps to keep the precious products inside nice and secure. It looks pretty, too! Once the outer cover was removed, I flipped the lid open.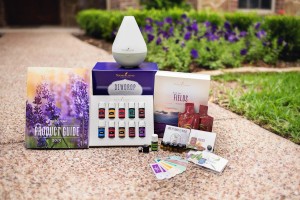 The first thing that stood out to me were the ten colorful bottles of essential oils. Lemon, lavender, peppermint, frankincense, purification, thieves, RC, DiGize, copaiba, and PanAway. These are ten of the oils that can easily be incorporated into one's everyday life and routine. Each bottle contains 5 mL of pure, therapeutic grade essential oil with Young Living's Seed to Seal Promise standing behind each one.
On the cover that flipped open there is great literature about the journey that has been embarked upon. A note from Young Living Founders, D. Gary and Mary Young, welcomed me and gave information about the Seed to Seal process, research that is conducted by leading scientists, and some little tidbits about items in the kit. There is information about sharing Young Living with others if I so choose, and a roadmap to success if I decide to branch out and make Young Living a business opportunity for myself.
But wait, there was more!
Pull the little tab where the ten bottles are stored, remove that piece, and underneath I found many more lovely surprises. The eleventh bottle of oil included in the kit, Stress Away, was tucked away inside. Two sachets of Ningxia Red, ten essential oil sample packets, ten sample bottles, and one AromaGlide roller fitment to attach to the bottle of your choice were also neatly placed here. These little nuggets of goodness are ways to experience additional Young Living products. Here's just a bit of information about each one.
Let's start with my favorite, the little red sachets. Ningxia Red is a powerful antioxidant drink that promotes whole body wellness. To me, this supplement is best when chilled, and you can even freeze it for a delicious, healthy, slushy treat.
Next, there are several one-time-use packets of various oils. I received lavender, peppermint, lemon, thieves, and peace and calming. These samples are for personal use, or they can be passed on to family or friends to try. I did send a few to friends and then kept the rest in my purse for those just-in-case-moments.
Another interesting find in the Premium Starter Kit was cute little sample bottles called drams. Drams have many purposes; you may choose to fill them with your everyday oils to carry with you to have on hand or to leave in different rooms in your house. Maybe you will choose to make your own blends of oils to try out to support your respiratory system or emotions. Choosing to pass the drops of love on to others can be done using the drams as well, which is what I chose to do. I attached these to Love It, Share It cards. A perfect way to let others experience oily goodness as well!
Now on to the most amazing part of the Premium Starter Kit….the diffuser! The wonderful oils can be applied topically, and some can be ingested. A third way to experience essential oils is to diffuse them. An ultrasonic diffuser will distribute the oils as a vapor into the air so that you can inhale the beneficial properties. I couldn't wait to set my Home diffuser up so that my house would smell fresh and clean. For me, opening the diffuser box was saving the best for last.
The excitement that I felt after receiving my Premium Starter Kit continues to this day. I read, research, and ask questions about essential oils so that I can use them to support wellness in my entire family. If you are considering buying a membership to Young Living, this is a great time to jump on board. Select Premium Starter Kits are now 10% off through the month of February. There's no time like the present to wait excitedly for your PRESENT to arrive in the mail, just like I did.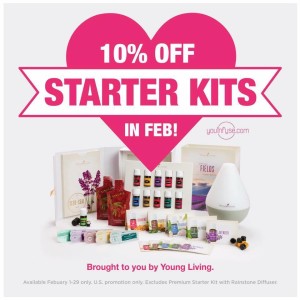 Thank you to Vibe Tribe leader Tracy Gajdos for contributing and sharing her love and passion for essential oils.
Ready to join the tribe? Click HERE